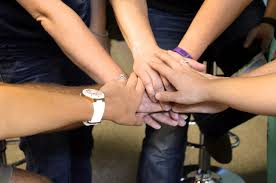 Jesus loves the church (Eph 5:25). Jesus' love enables our love for the church. But how do we love the church? Here are seven ways to love Christ's local church.
1. Become a member (1 Cor 12:14-31). Becoming a member, rather than merely a regular attender, shows your loving commitment to one another.
Attend the stated meetings of the church on a regular basis (Heb 10:25). At Grace Community Bible Church, we have designed each stated meeting (Sunday worship, C.E. hour, Wednesday evening service, and Grace Groups) for a specific purpose. Think of each service as parts of a healthy diet: vegetable, fruit, dairy, meat, and grain. If you only ate one part, you would be unhealthy. We need a balanced diet to have healthy bodies. Attending the stated meetings of the church on a regular basis is an evidence of love and care for the Body of Christ.
Submit to and obey church elders (Heb 13:17). Just like a marriage has roles and authority, so does the church. You probably have experienced what it's like either in your marriage, or someone else's, where roles and authority go haywire and the marriage falls apart. But one of the chief ways a wife, for example, can show love toward her husband is to submit to his loving lead. So, we demonstrate love for the church by submitting to and obeying the loving rule of the elders.
Practice church discipline (Matt 18:15-18). Church discipline starts with a brother or sister going to another in the church when they see an area of unrepentant sin. Loving confrontation is one of the best ways to love your church. After all, God shows his love toward us in those moments when he "confronts" our sin.
Forgive one another (Eph 4:32). The old joke: "Church would be great, if it wasn't for the people" rings true for many. Yet the church is more like a hospital than a country club—we need constant care and love. Practicing forgiveness shows our love for one another.
Pray for others (Eph 6:18). Recently someone in our church told me that they pray for me every day. What an encouragement! And what a ministry! What a way to demonstrate love!
Serve the church in tangible ways (Eph 4:11-16). When I think about service in the church, I think about Jesus who "did not come to be served, but to serve" (Mark 10:45). When we serve in the church, we are demonstrating the same love for people that Jesus has.
These seven ways are not the only ways you can love your church. The ways are numerous. But these seven are a good starting point. Which ones do you need to implement today?
May God give us grace to love what Jesus shed his blood for—the church.
Pastor Dan Burrus