How is God's love different than our love? There are at least four ways God's love is different than human love. I'm borrowing these four ways from a sermon by William Cooper, author of many well-known hymns including "There is a Fountain."
God's love is eternal; ours is not.
It is hard to fathom in our finite minds, but, if you are a Christian, from before time began, God loved you. This means his choice of you is an effect of his love for you. Paul puts it like this: "For those who whom He foreknew (i.e., loved), He also predestined" (Romans 8:29). As Cooper says, God's "love is as eternal as [God] himself!"
God's love is free; ours is not.
Unlike our love, God's love is absolutely free. What this means is that there were no conditions God saw in us when he set his love upon us. God didn't love us because we were lovely—that wouldn't be free love. God loves us because he loves us (John 3:16). Nothing constrains his love. Our love, however, is conditioned, to some degree, by the person we love. I love my wife because she is loveable to me. Some people I find very difficult to love because they are not very loveable. My love, therefore, is not absolutely free, but is to some extent constrained by the object of my love.
God's love is immense; ours is not.
God's love has no limits; our love does. As Samuel Rutherford once said: "God's love has no brim or bottom." Our love runs dry many times. And God wants us to understand and embrace the immensity of his love. Paul prays that we "may be able to comprehend . . . what is the breadth and length and height and depth, and to know the love of Christ which surpasses knowledge" (Ephesians 3:18-19).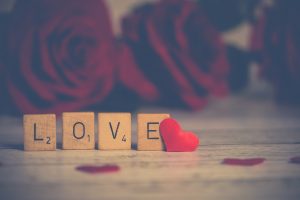 God's love is unchangeable; ours is not.
Perhaps summarizing the prior three, God's love is unchangeable, ours is not. This means, as John Owen states: "Though we change every day, yet his love does not change. If his love was not unchangeable, we would perish." God's love for you will never, ever, no, never change. And nothing can take away his love (Romans 8:39)!
Wherever you find yourself this Valentine's Day, I hope you are encouraged by meditating on the differences between God's love versus human love.
Pastor Dan